Spark Fibers
OUR ASPIRATION
" Let's dream and learn to compete, Let's compete and learn to achieve, Lets achieve and learn to lead, Yes, Let's do our country proud! "
Archana Prahladka
(Director - Spark Fibers)
VISION STATEMENT
"To produce the best quality product at minimum cost and time and offer the same at reasonable price in time"
ABOUT US
That Perfect perch, the spread of wings, the eagerness to fly and finally the take off for heights. A company's journey never begins alone. We take with us the hard work, sheer determination, perseverance and trust of our clients and dedicated employees. In a world where customers have an unlimited variety of choices, quality is a crucial factor between a catastrophe and success. At Spark Fibres, we have realized that superior quality of our products and services is the main key to becoming the best choice in "Narrow Woven Fabrics". Ours is a family of companies that has enjoyed a steady growth at levels exceeding market expectations. At our research, design, and manufacturing facilities, everything is geared to user friendliness and reliability, from what we produce to how we go about producing it.
Propelled by our topnotch human resources, Spark Fibres continues to develop innovative and functional ideas for products that will face the new, challenging area of global competition.
We strongly believe that the only possible way of learning and developing ourselves is to offer the best products and the best services to customers, which is a deliberate continuous effort at Spark Fibres as an institution, because we cultivate a hands on approach and whatever we are today, is because of our own learning and developing the art of business in manufacturing narrow fabrics.
We in Spark Fibres very strongly believe that this is the best way to ensure that the market is fully developed for the products and services dealt with by us. Once the market is fully developed, then we venture into manufacturing and offer it at most reasonable price to our valuable clients. We offer right products, at the right price and at the right time and our service is in-built as complimentary to our products. We respect our customers and listen to them and endeavour to offer whatever services they ask.for.
We are learning and developing ourselves continuously.
PRODUCTS
Spark Fibres is the manufacturing unit of Motilal Dulichand Group seriously engaged in the Narrow Woven Fabrics. Apart from our regular range of product we produce items as per our buyers product specification with high quality assurance. We cater to various sectors such as - Saddlery, Footwear, Bags, Safety Equipment, Defence etc. Jacquard Tapes & Elastic is our specialty.
Webbings Range -Halters, Jhool, Sursingle Elastic, Cushion Webbing, Girth, Tubular Tapes, Jacquard Halter Elastics & Binding.
High Quality Elastics -Sandwitch Elastic, Plain Elastic, Heavy Elastic, Bandage Elastic, Weft Elastic, Chaps Elastic, Shoe Elastic, Hook Elastics & Breeches Elastic.
Light NWF -Head & Tail, Fine Tape (2mm-50mm) & Reflective Tapes..
We produce all the above items in Cotton, PP, Nylon, and Spun Polyester of finest quality.
INFRASTRUCTURE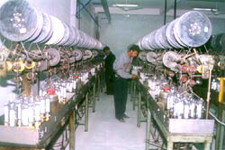 Our QC Lab is fully equipped for all tests required for narrow fabric from yarn stage to process level & final product.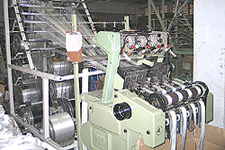 We have imported & indigenous machines to produce all kind of
braided woven & knitted items.
We keep on trying with new innovative ideas and thoughts
in terms of producing new variety of products as per expected future market trends.